We've all been on a camping trip where sausages in bread are the main meal for the ENTIRE trip. I mean, sausages in bread are okay…but does anyone actually want them for dinner every day? I don't think so. Finding good camping meals for picky eaters is a genuine challenge.
Now, anyone who knows me would probably say I am a very picky eater. The food looks weird? No thanks. Has a funny texture? Get that away from me! And chances are, you know someone (probably your kid) that has this exact same reaction when you're trying to offer the healthy lentil stew that you've whipped up at the campsite.
Just because you're camping doesn't mean you have to eat unappetising and boring meals. Actually, many people think it's too hard to cook without access to a proper kitchen. Wrong. It's really not that hard to make something delicious.
So, I've thought long and hard about the ideal meals I'd like to have at the campsite, and these camping meals for picky eaters…well they're just SO easy and always a crowd favourite. And no, hotdogs will not be making the list.
Breakfast camping meals for picky eaters
Breakfast is my favourite meal of the day, hands down. I don't know about you, but I would not want to start off my day with a below average meal, or even worse – nothing at all.  For the first meal of the day, you could go with the classic oatmeal and fruit, but that's no fun. You're on holidays and you should eat like it!
Pancakes
You honestly can't go wrong with pancakes. Ever. Throw away your bowls of cornflakes, because there's absolutely no reason why you can't have pancakes when you're camping. Plus, it's a holiday must have so you really just can't pass up the opportunity – it's frowned upon.
The simple way of making them is to buy one of these shake mixes, and then adding your own toppings that you have on hand – maple syrup, fresh fruit, chocolate, or my personal favourite, lemon and sugar.
Alternatively, if you want something a bit different (banana pancakes anyone?) or you just prefer your own homemade recipe, then mix it up at home and divide them into bottles or zip lock bags. Empty tomato sauce bottles are the perfect pancake dispensers!
Bacon and egg muffin
Mmm, how good is the smell of bacon and eggs cooking to wake you up in the morning? (Sorry vegetarians)
If you're more of a savoury person, prefer some meat in your breakky, or you've had a few too many beers around the campfire the night before and need a recovery meal – then this one is for you.  Again, it's so easy to make at the camp site.  Fry up some bacon and a couple of eggs and whack them in between an English muffin (or just some bread if you're not that fancy).
If you're vegetarian just swap out the bacon for avocado and it's just as good, if not better.
A cool tip:
Something that I've learnt along the way is that if you like your egg scrambled or in an omelette, then pre-crack your eggs into a bottle at home before you head off on your trip. Store them in your camping fridge or esky to save space and reduce the risk of a disastrous egg cracking, and yolk spread everywhere.
Lunch camping meals for picky eaters
Say no to those basic burgers you have every camping holiday! You can do so much better, honey.  These lunches are super easy as well, all you need is a grill, fire, and some aluminium foil to get it started.
Burritos
Yes, you heard right. Burritos! How could you ever say no? Plus, they can be healthy if you add the right fillings.
Fill your tortilla up with your favourite fillings: salsa, cheese, salad and veggies, avocado, rice – I use rice cups because then you don't have to cook it 🙂 and add meat if you want. Then just fold up your tortilla, wrap it up in the foil (make sure you spray it with cooking oil), and then throw it on heat for about 3 minutes each side.
Too easy! You can even make these up in the morning and take them with you if you'll be out exploring all day.
Cheesy Fries
Okay, so it's definitely not the healthiest lunch option, but it sure does taste good! Make a little bowl out of your foil, add the frozen fries and toss with a little butter, then pop it on the grill. When they're just about ready add some cheese, and any other topping you would like – bacon, salsa, spring onion and avocado are popular choices – and leave on the heat until it's all melted, gooey, and mouth-watering.
Dinner camping meals for picky eaters
If you've had a long day jam-packed with activities or even if you've just been lying on the beach all day (no judgement here), you have probably worked up quite an appetite. I know that after a long day, I can't be bothered putting much effort into making dinner. I'd rather curl up and relax by the fire, so these are very much no-fuss meals!
Nachos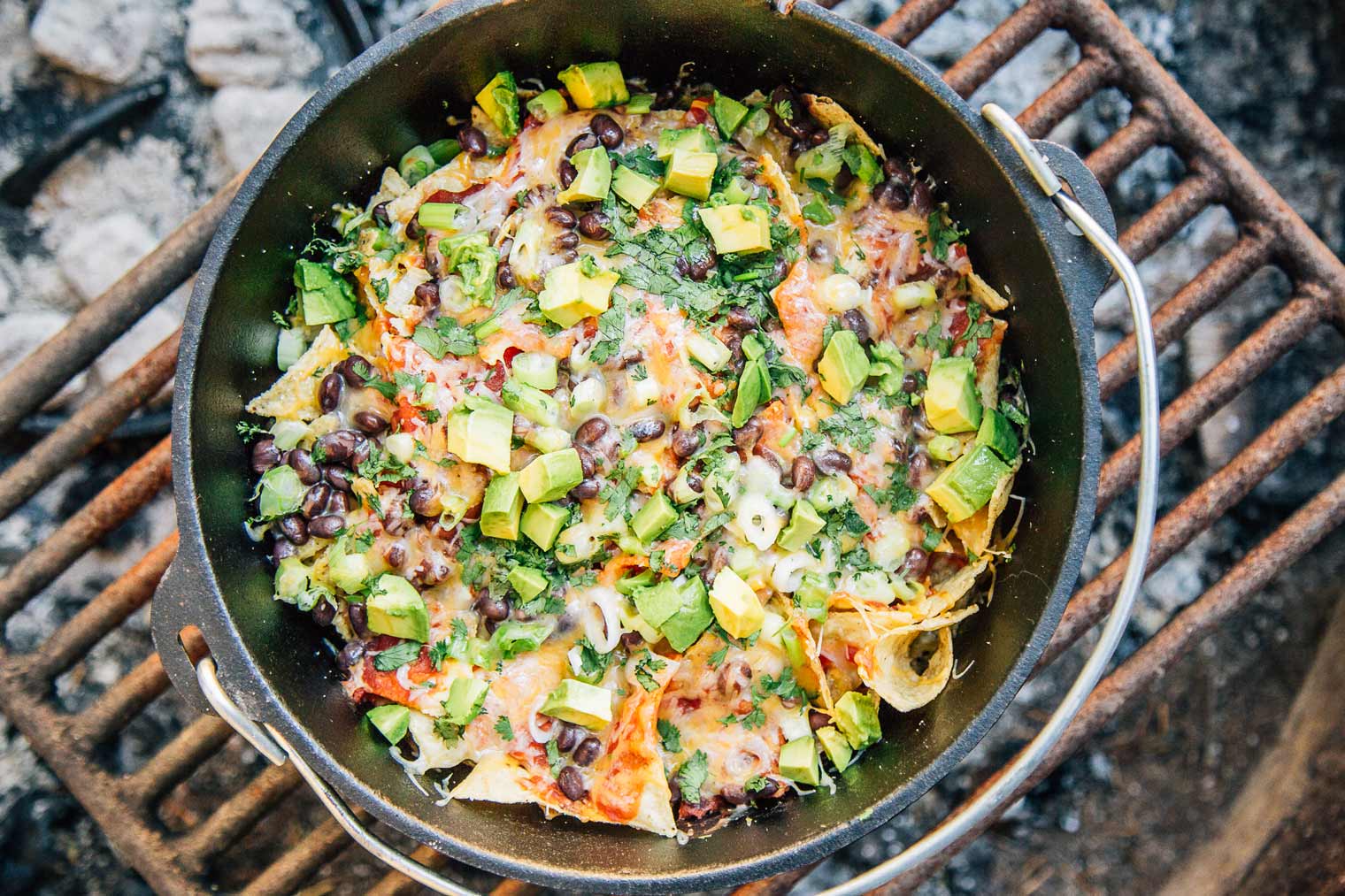 This is probably one of my all-time favourite meals, in fact I'd say that they're my speciality. And they're just as easy to make while camping as they are at home! You can use a pan or make-shift foil bowl (like what was used for your cheesy fries).
The best way to make nachos is like a lasagne – layer it! Create a layer of these corn chips (because they're the best). Then add salsa, cheese and your choice of toppings such as beans, meat, diced onions, and tomatoes. Just keep adding layers until you're satisfied. The top layer must have the most cheese – it's a rule.
Cook it for about 10 minutes, and then serve it with sour cream or guacamole!
I could definitely go for some nachos right now.
Flatbread Pizza
If you're feeling guilty you can still make this one healthy! Using pita or naan bread, just add your tomato paste base then top with your choice of meat and fresh veggies! Tomato, onion, mushroom, capsicum, and olives are no brainers.
Personally, I'll always go for the basic ham and pineapple pizza – and yes, pineapple does go on pizza.
Just put it on a grill on top of the fire and watch the magic happen!
Dessert camping meals for picky eaters
You have always got to save room for desert. Always. And this one will definitely be the easiest meals for picky eaters! Everyone loves desert, you've just got to agree on which one.
S'mores
Marshmallows are always a favourite, there's no denying that. But in America, everyone goes crazy over s'mores. Chances are you know what it is (chocolate, roasted marshmallows, and graham crackers) but you still haven't tried it.
To make them use two digestive chocolate biscuits, you can add a square of Lindt chocolate if you want it to be extra chocolatey (it's personal preference whether you choose milk or dark chocolate), then roast a marshmallow and pop it between the biscuits. The heat will melt all the chocolate making it a super gooey, sticky, slice of heaven.
S'moreos
The new craze among campers are s'moreos (s'mores made with Oreos, kind of self-explanatory really).
Anyone else craving some s'moreos real badly, right about now?
So, there you have it! The easiest camping meals for the pickiest of eaters – even yours truly. Why would you ever want to go back to plain old sausages on bread?
Now, I know they aren't the healthiest of options but you're on holiday so you should make the most of it! And if you're really that concerned just add in some fruit and veggies to your meals and you'll be right.
Do you need a little help planning your next holiday? Campstay can help you find, compare and book holiday parks and campgrounds. Check out our website here, or download our android / itunes app. You can also follow us on Facebook, Instagram, or join our group – Holiday Park recommendations Australia.